Chiropractic Care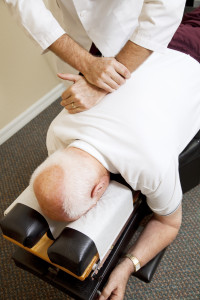 For 19 years, Simoson Chiropractic has focused on successfully providing patients with chiropractic and rehabilitation therapy that results in fast, long-lasting relief from pain.
We're pleased to offer acupuncture and nutritional services in addition to our chiropractic care of services. The addition of these specialized services enables Simoson Chiropractic to offer our patients a variety of solutions that support our overall cycle of care: manage the pain, correct the problem, work to prevent the problem form returning and lead a healthy lifestyle.
At your first appointment, Dr. Simoson or Carrie Simoson will discuss the nature and extent of your condition with you to determine the appropriate treatment. If chiropractic care or one of the nutritional services are not suitable for your needs, we will readily refer you to the appropriate healthcare.
Physical Exam
After taking a complete case history to review important aspects of your health, a thorough examination will be conducted. You'll be asked to turn and bend, your posture will be checked, your reflexes and muscle strength will be tested and other orthopedic and neurological tests may be performed to determine general health status and initial problems.
X-Rays
Based on your examination findings, X-rays or other types of diagnostic imaging may be necessary. These images can help reveal pathologies, document the history of your spinal health, and guide Dr. Simoson in creating a care program based on your unique spinal conditions. Today's high-tech equipment and ultra-sensitive films help minimize your exposure.
Treatment Plan
A Personal Treatment Plan will be developed for you. Treatment methods, along with spinal adjustments, may include ultrasound, electrical stimulation, inner segmental traction and controlled exercise. It may also include life-style counseling, such as providing exercises aimed at flexibility, strength and overall well-being.
If you suffer from any of the following, Chiropractic Care may help you:
Headaches
Neck Pain
Low or Mid Back Pain
Numbness and Tingling
Pain between Arms and Shoulders
Joint Pain
Sports Injuries
Whiplash Injuries
Sciaticas
Pain in the Legs, Hands or Feet
We welcome your feedback and invite you to contact us at (440) 934-2131 to schedule an appointment.