Home
Wellness... Your Goal, Our Mission
Hours
Monday: 9am – 4:30pm
Tuesday: 2:30pm – 6:30pm
Wednesday: 9:30am – 2:30pm
Thursday:2:30pm – 6:30pm
Friday: 9am – 4:30pm
Saturday: 9am – 10am
Sunday: Closed
Make an appointment: (440) 934-2131
Welcome to Simoson Chiropractic, where your best care is our number one concern. We combine chiropractic and rehabilitation therapy to provide our patients with faster, longer-lasting relief from pain.
Nutritional Services

At Simoson Chiropractic, we believe that given the proper nutrition, your body has the amazing capability of keeping itself healthy. We also believe that nutrition should be individualized to meet each patient's needs. For these reasons, and many more, we proudly recommend Standard Process Whole Food Supplements. Learn More.
---
Lake Erie Crushers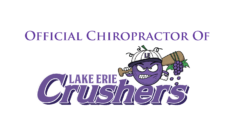 Dr. Leo Simoson has been named the Official Chiropractor for the Lake Erie Crushers!